Regular price
$459.99
Sale price
$359.99
Unit price
per
Sale
Sold out
About this item

AE-TDQR03 Countertop Dishwasher with upper and lower rotating spray arms provide corner to corner coverage, washing temperature range: 122℉-167℉, thoroughly dissolve grease stains, transforming crusty, greasy, or messy dishes into clean, ready-to-use place settings. In addition, compared with manual dishwashing, this dishwasher uses only 1.3 gal of water, which reduces water consumption by 80%. It also only consumes 0.135-0.439 kWh of electricity per cycle and saves floor space.

Quality Control Note: All Airmsen dishwashers are manufacturer tested to ensure proper operation, so a small amount of residual water in the unit is normal.

Dimensions: Product Depth: 16.75" | Product Height: 18.05" | Product Width: 16.86" | Product Weight: 26.46 lbs | Noise level: 50.2dB. With the portability of a countertop dishwasher, you can move it into a RV, boat or cabin in the woods. Pick up your portable countertop dishwasher and take it with you.

Capacity: Four (4) standard place setting capacity can fit a variety of dishes (up to 12-inches in diameter) - Includes dish rack, cup shelf, cutlery basket and fruit basket. Meet daily needs.

Water Source: Kitchen Sink (Faucet) Hookup or Built-in Separate Water Tank. The water tank is a great option if you have difficulty attaching and securing water hoses, or if you want to wash dishes far from a sink. Water hose is included for a direct water hookup to kitchen faucet (may need to use adapter).

Five Washing Cycle: Normal, Speed[29 min], Glass, Baby Care, Fruit. The minimalistic and straightforward interface allows you to effortlessly navigate the different settings to suit your dish washing needs.

Extra-Drying Function: Provide 60 minutes of hot air drying and 72 hours automatic ventilation to keep your dishes clean, prevent odors and dry for long periods. This mode can be used with any washing mode other than FRUIT mode and can also be turned on separately.
Weights & Dimensions

Overall: 18.1'' H x 16.7'' W x 16.8'' D
Overall Product Weight: 27 lb.
Specifications

Color: White/Black
Package Included: 1 Fruit basket, 1 user manual, 1 pitcher, 1 cutlery basket, 1 airmen dishwasher, 1 tableware basket, 1 drain hose, 1 inlet hose, 1 hose collar
Number of Cycles: 5
Sound Rating: 51 decibel
Number of Place Settings: 2
Number of Drying Cycles: 2
Number of Racks: 1
Voltage: 120 Volt
Amperage: 10 Amps
Maximum Wattage: 950 Watt
Number of Wash Arms: 2
Estimated Yearly Operating Cost: 17
Estimated Yearly Electricity Use (kWh): 142 Watt
Model Number: AE-TDQR03
Share
A small kitchens can also have a perfect dishwasher. The fastest dishwashing speed 29 minutes, drying function, saving water and electricity resources, resource-friendly dishwasher.

6 Main Functions:
[NORMAL] General or daily dishware washing. Time: 69 min
[SPEED] Washing tableware with slight oil stain. Time: 29 min
[GLASS] Glassware washing. Time: 59 min
[BABY CARE] Baby bottles,toys and heavily soiled dishware washing. Time: 89 min
[FRUIT] Rinse. Pre-washing, washing fruits, vegetables, seafood etc. Time: 19 min
[DRYING] Provide 60 minutes of hot air drying and 72 hours automatic ventilation to keep your dishes clean, prevent odors and dry for long periods. It can be used with any mode except the fruit mode or used alone.
Get Rid of Space Constraints
Whether you're putting together a meal in a tiny apartment, an RV, or an older home without a built-in dishwasher, portable dishwashers can help clean up your messes so you barely have to lift a finger. This appliance is a total time-saver, keeps the eczema on your hands at bay, and allows you to kick up your feet after cooking a pasta dinner.
Lucky for you, Airmsen AE-TDQR03 Countertop Dishwasher is just over 18 inches tall, and come with a variety of features including an dry mode and tabletop design. This machine comes with hoses to connect it to the kitchen faucet but what sets it apart is its built-in five-liter water tank, so it can be operated without tying up your faucet. After installing one in your space, you'll be treated to sparkly pots and grime-free spoons regularly.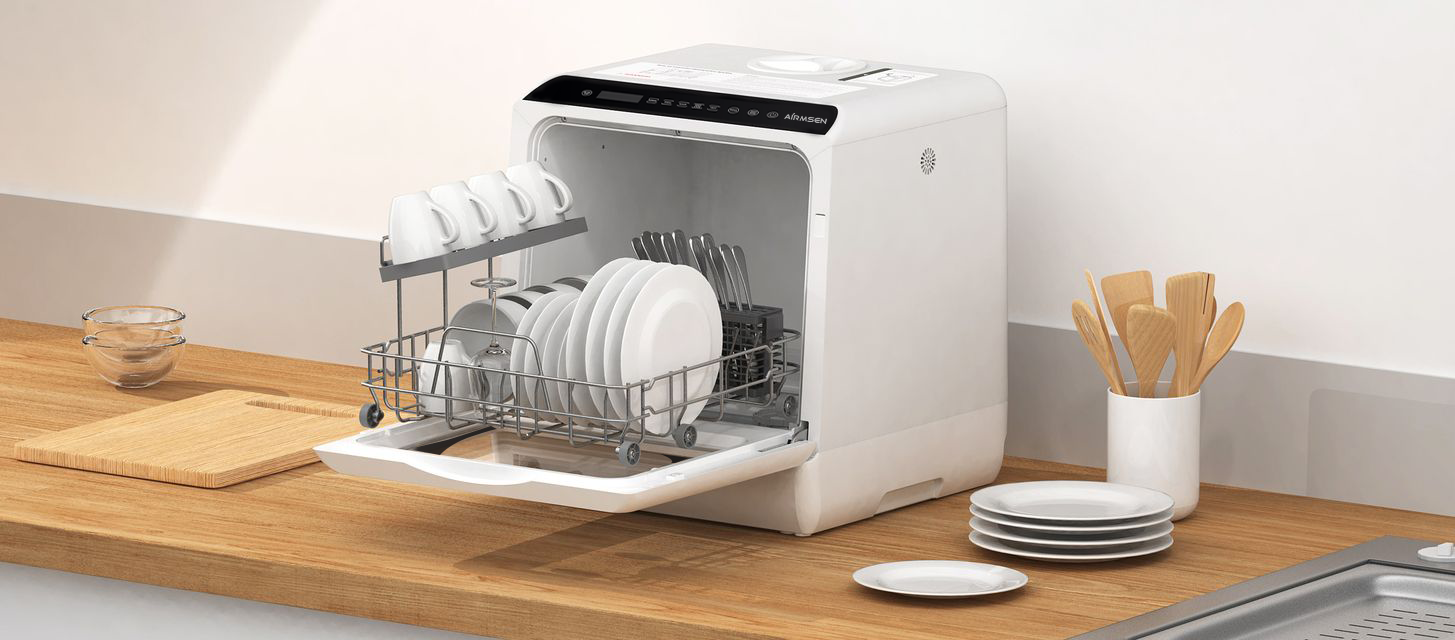 View full details
Dishwashing Made a Breeze
While it air dries, you might find yourself using a dish towel to dry the dishes, but they come out clean and sterile.
So far so good~
I have to admit, I used to despise doing dishes, but this portable dishwasher has completely changed the game, and I actually enjoy it now! It's as simple as giving your dishes a quick rinse and scrub, maybe tossing in a detergent pod, and then loading it up. The best part? You can keep your hot water running without worrying about your water bill skyrocketing because this clever appliance only uses water as it needs it, ensuring you'll still have plenty of hot water for other tasks. I wholeheartedly recommend it!
lifeguard washing dishes
Using this dishwasher has become a daily ritual for me, and I can't imagine going back to the days of washing dishes by hand. The convenience it offers is truly remarkable. It takes a mere 5 minutes to load my dishes, and later unload them, as opposed to the nearly 5 minutes I used to spend just running the tap and waiting for hot water. You see, I have an on-demand water heater, which is great, but if the tap is far from the source, it can take quite a while for the water to get hot. With this dishwasher, I've not only saved a significant amount of time but also conserved water in the process.
mini dishwasher
Let's face it, cleaning dishes is probably one of the least appealing tasks we have to deal with as adults. I'd never had a dishwasher in any place I'd lived before and didn't want to spend over $1,000 on an in-cabinet unit. That's when I stumbled upon this little dishwasher, and it's been an absolute life-saver.
Tiny House Perfect Complement
It does a better job than I do because, let's face it, I'm always rushing through the dishwashing process.